GSA's compressed air filter
is a filter designed to remove impurities in compressed air
GSA's compressed air treating equipment turning top air quality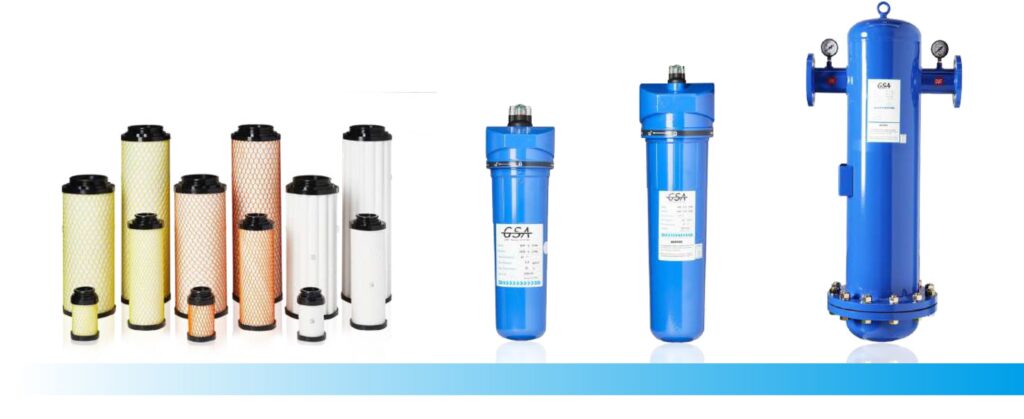 In the compressed air are found oil aerosol, vapor, diverse fine particulates and condensate. Using such contaminants without being filtered by a proper method may cause a problem in manufacturing equipment or processes or result in decrease in product quality or product defect. Try to enhance work efficiency and productivity with compressed air which meets international quality standards after the use of high-quality, high-efficiency GSA filters.
Install proper particulate, coalescing and carbon filters according to the quality of compressed air.
Compressed Air Quality Level
ISO8573-1-2010
CLASS
Maximum number of particles per ㎥
Vapour Pressure
Dew Point ℃
at 7 barg
Total Oil
mg/㎥
0.1~0.5 micron
0.5~1.0 micron
1.0~5.0 micron
1
20,000
400
10
-70
0.01
2
400,000
6,000
100
-40
0.1
3
-
90,000
1,000
-20
1
4
-
-
10,000
3
5
5
-
-
100,000
7
-
6
-
-
-
10
-
Filter Installation according to Quality of Compressed Air

Coalescing/Particulate Filter(40μm, 5μm, 1ppm)

Feature: Removes condensate and large particulates
Purpose(s): Regularpneumatic equipment
Airquality: ISO8573-1 Class 3

Coalescing/Particulate Filter(0.1ppm, 1μm)

Feature: Removesoil and fine particulates
Purpose(s): Pneumatic tool/control
Airquality:I SO8573-1 Class 2

Coalescing/Particulate Filter(0.01ppm, 0.1μm)

Feature: Removesoil and fine particulates
Purpose(s): Electronics, painting, food
Airquality: ISO8573-1 Class 1

Carbon/Particulate Filter(0.003ppm, 0.01μm)

Feature: Removesoil and ultra fine particulates
Purpose(s): Pharmaceuticals, medicine, semiconductor
Airquality: ISO8573-1 Class 1
The bayonet connection structure enables filter assembly/disassembly without a particular tool. It is also easy to assemble the element, ensuring safe and easy maintenance.
Since easy assembly/disassembly and maintenance are enabled in a minimum installation space, any inconvenience resulting from spatial constraints is minimized.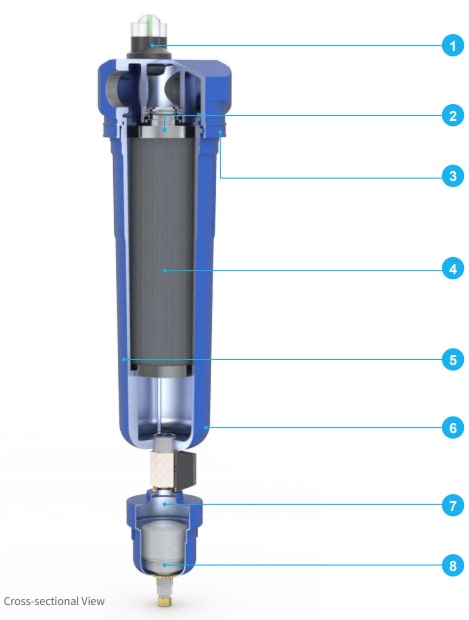 Differential Pressure Indicator

Able to check when the element should be replaced easily with a differential pressure indicator

Easy Element Replacement

Patented radial element; easy to install and remove

Simple Assembly

A patented bayonet connection type; easy to assemble/disassemble without a particular tool; convenient repair & maintenance

Pleated Type

High reliability and great filtering efficiency with a multilayered structure; pleated design, slowing down the flow of compressed air; minimizes pressure loss

Aluminum Die Casting

Light and highly airtight in aluminum die casting design

Anodizing Surface Treatment

Durable and anti-corrosion with anodizing surface treatment; prevents float drain malfunction caused by corrosion

External Auto Drain

Prevents float malfunction with floatmounted auto drain; easy maintenance

Auto/Manual Float Drain

Easy maintenance with auto & manual float drain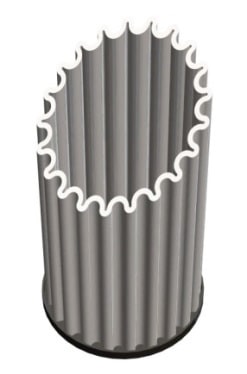 GSA particle filters have great filtration efficiency with a uniform and dense particle size, compared to rival products.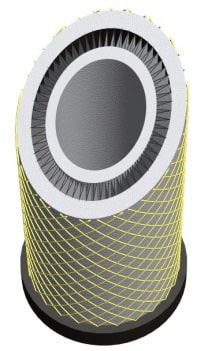 In 4-layer structure, a GSA oil filter is able to filter oil and particles with great oil-water separation capacity.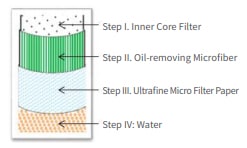 References
Inlet Air Pressure: 7.0 barg
Design Pressure: 14 barg(50AN or lower) / 9.7 barg(65A or higher)
Maximum Operating Temperature for Element: 40/5 μm(Max.65 C), 1/0.1/0.01 ppm(Max.54 C)
Materials used under particular pressure or those made with stainless steel are custom-made.
A filter support should be HYF-125A or higher.
Filter Nomenclature
- Filter Model: HYF-40-15AN(Filter – Filtration Rate – Connection)
- Element Model: HYE-40-15AN(Element – Filtration Rate – Connection)
'HYE - XX - 50A (bolt)' applies for HYF-65A or higher models. The quality can vary depending on each model. Please check quantity before placing an order.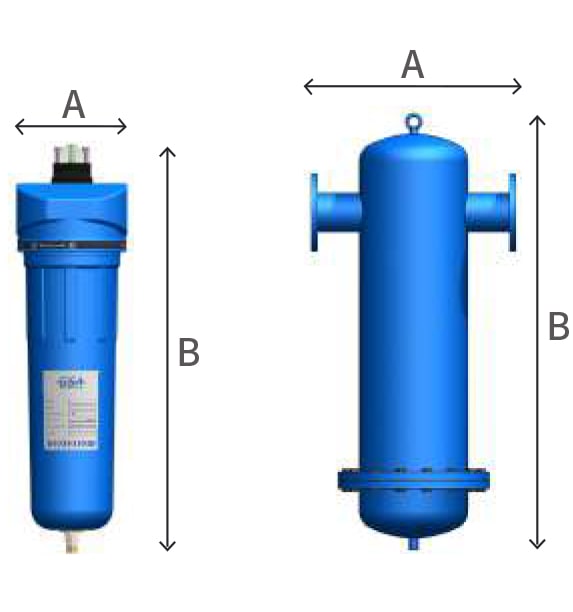 Model
Particle Removal
Oil Removal
(@ 20'C)
Maximum Operating Temperature
Differential Pressure(barg)
Differential Pressure Indicator
(Element Replacement)
Element
℃
Dry
Wet
DPI Color
Month
Color
Material
H
Y
E
40
40 Micron
-
65
0.05
0.15
RED
6
White
Polyethylene
5
5 Micron
-
0.05
0.15
White
Polyethylene
1
1 Micron
1 ppm
54
0.15
0.3
Red
Borosilicate
0.1
1 Micron
0.1 ppm
0.15
0.3
White
Borosilicate
0.01
1 Micron
0.01 ppm
0.15
0.3
Yellow
Borosilicate
0.003
-
0.003 ppm
0.1
0.2
White
Activated Carbon
Model
Flow Rate
Maximum Operating Pressure
Connection
Element Quantity
Dimensions
Weight
N㎥/min
CFM
barg
A
EA
(A x B) mm
kg
H
Y
F
15AN
0.8
28
13
PT 15A
1
85 x 185
0.8
20AN
1.7
60
PT 20A
1
85 x 225
1
25AN
3.4
120
PT 25A
1
105 x 330
1.9
40AN
10
353
PT 40A
1
165 x 440
5.5
50AN
14
494
PT 50A
1
165 x 540
6.5
65A
28
989
9.7
FLG. 65A
2
550 x 1143
88
80A
42
1483
FLG. 80A
3
550 x 1143
103
100A
70
2472
FLG. 100A
5
600 x 1180
120
125A
84
2966
FLG. 125A
6
700 x 1251
170
150A
112
3955
FLG. 150A
8
700 x 1251
180
200A
196
6922
FLG. 200A
11
1000 x 2367
300
250A
330
11654
FLG. 250A
19
1200 x 2705
400
Model
Flow Rate
Maximum Operating Pressure
Connection
Element Quantity
Dimensions
Weight
N㎥/min
CFM
barg
A
EA
(A x B) mm
kg
H
Y
F
15H
1
35
35.0
PT 15A
1
106 x 340
17
20H
1.9
67
PT 20A
1
106 x 390
19
25H
3.4
120
PT 25A
1
106 x 510
21
40H
10
353
PT 40A
1
144 x 700
25
50H
14
494
PT 50A
1
185 x 925
28