A receiver tank temporarily stores the compressed air from an air compressor
and supports its efficient operation.
GSA's compressed air treating equipment turning top air quality

Increase in air compressor management costs due to short load/no-load interval of an air compressor
Temporarily stores hot air from an air compressor, releases condensate by cooling the compressed air naturally and reduces load on the compressed air system
Minimizes pressure changes which affect production processes or quality
Secures the stability of manufacturing processes in emergency situations
Design Conditions
Inlet Pressure : 9.7 barg
Design Temperature : 100℃
References
Models under ASME in addition to KS are also customizable.
High-pressure models with high design pressure are also customizable.
Large models bigger than those stated in the specifications above are also customizable.
The specifications are subject to changes without notice for product improvement.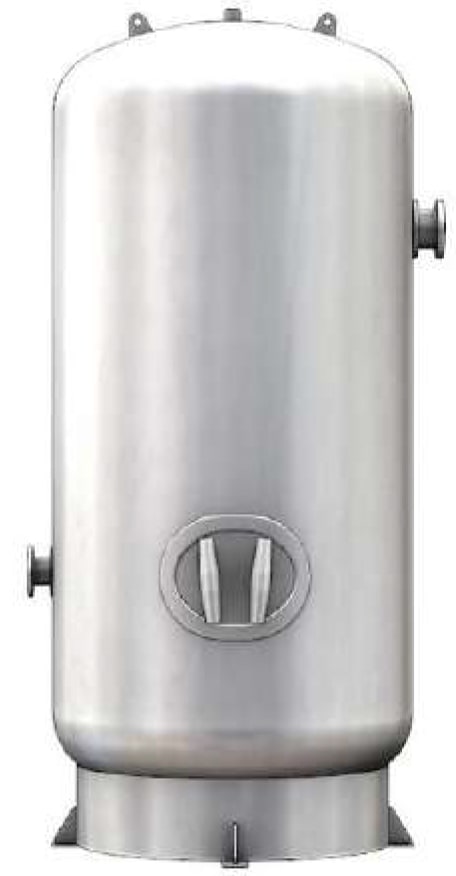 Model
Capacity
Connection
O.D.
Height(H)
Anchor Hole
Weight
m3
A
mm
mm
mm
kg
G
S
0003A
0.3
25A
609
1,450
16
150
0005
0.5
40A
660
1,770
16
210
001
1
50A
916
1,908
16
400
0015
1.5
50A
1,013
2,246
16
560
002
2
65A
1,150
2,358
20
832
0025
2.5
80A
1,284
2,559
20
970
003
3
80A
1,299
2,720
20
1,300
0042
4
100A
1,489
2,820
20
1,500
005
5
100A
1,504
3,437
20
1,750
0061
6
150A
1,626
3,460
22
2,500
007
7
150A
1,626
4,078
22
2,700
008
8
150A
1,606
4,580
22
3,000
010
10
200A
1,878
4,287
24
3,100
012
12
200A
1,960
4,657
24
3,800
013
13
200A
2,134
4,300
24
4,000
016
16
250A
2,480
4,025
24
5,000