Features and Advantages of Filter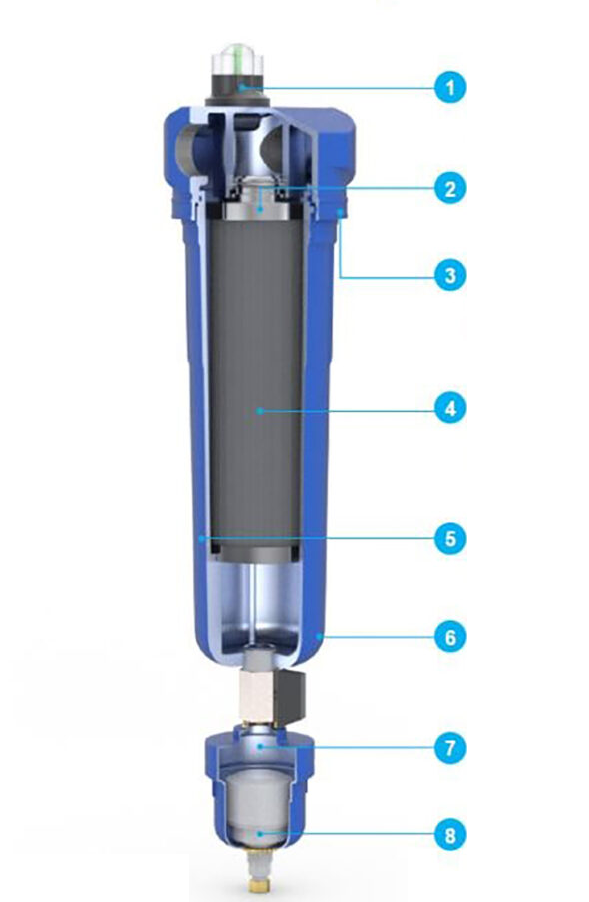 Differential Pressure Indicator

Able to check when the element should be
replaced easily with a differential Pressure
Indicator

Patented radial element; easy to install and remove

A patented bayonet connection type; easy to assemble/disassemble without a special tool; convenient repair & maintenance

High reliability and great filtering efficiency with a multiayered structure; pleated de-sign, slowing down the flow of compressed air; minimizes pressure loss

Light and highly airtight in aluminum die casting design

Anodizing Surface Treatment

Durable and anti-corrosion with anodiz-ing surface treatment; prevents float drain malfunction caused by corrosion

Prevents float malfunction with float-mounted auto drain; easy maintenance

Easy maintenance with auto & Manual float drain
GSA's R&D department designed our compressed air filters. The molds of compressed air filters are our own property as belong to GSA. However, the manufacturing of the bowls and heads are done by our part supplier. It is illegal for them to sell any imitation products in the market. GSA filters are protected by a patent. The bowl and head can be supplied only to GSA.
Through GSA compressed air filters, you can enjoy peace of mind with superior quality.
GSA filters do not have nest leakage issues because the bowls and heads are precisely machined.
GSA filters do not have thread position bent issues because the threads of the bowls and heads are precisely machined.
GSA filters do not have the coating-caused-no-opening issues because epoxy or polyethylene-based powder is used as a raw material and the bowls and heads are painted using static electricity. It has better resistance and adhesion than solvent type and excellent durability for corrosion prevention. Moreover, Resistant to acids, alkalis and impact. It has an exceptional waterproofing effect and there is no air pollution caused by solvents or evaporation. There is no fire hazard as it is non-volatile.
GSA filter has durable bowls and heads and anti-corrosion with anodizing surface treatment so there are no corrosion issues.  It enables them to prevent float drain from malfunctioning caused by corrosion.
GSA filters do not have such kind of quality control issues because GSA is doing our best effort to provide our greatest support and convenience to our customers. You experienced how we GSA did our best effort to help you when you were in a difficult situation with a switch delivery.  We consider all of our business partners as honorable ones.